Ribbon-cutting Ceremony Celebrates Grand Opening of Pharmavite "Val-W" Facility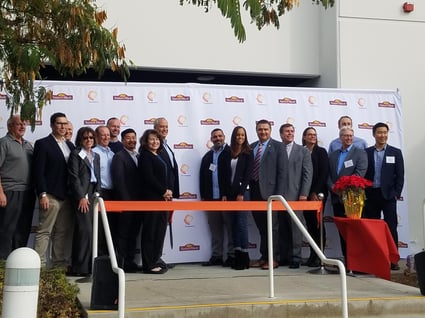 On Wednesday, November 29, 2017, Pharmavite celebrated a Ribbon Cutting Ceremony for their new "Val-W" 229,000 square foot facility located at 28355 Witherspoon Parkway, Valencia, CA 91355 in the Valencia Commerce Center.
This state-of-the-art facility will consolidate two current Santa Clarita Pharmavite operations into a single location, streamlining their supply chain, logistics and distribution. The new building will house their Nature Made® vitamin and nutritional supplements, raw materials and intermediate bulk, as well as finished goods, when their move is complete in mid-2018. It complements their packaging operation located just down the street at 28104 Witherspoon Pkwy, Valencia, CA 91355, greatly improving materials access, production time and operational efficiencies.
"This move and our new 15-year lease represents a deep commitment to our employees' well-being, and to remaining a key employer in the Santa Clarita Valley for the long-term," said Brett Buatti, VP of Operations. "This new building provides state-of-the-art technology connectivity and infrastructure, a more efficient working environment, critical safety equipment, and complete amenities for our staff."
The operation will run four shifts Monday through Saturday and one shift on Sunday, with approximately 175 employees.
About Pharmavite
For 45 years, Pharmavite LLC has been a trusted leader in the wellness industry, earning the trust of healthcare professionals, consumers, and retailers by manufacturing high-quality vitamins, minerals and other dietary supplements under its Nature Made® brand. Headquartered in Northridge, California, Pharmavite LLC operates as a subsidiary of Otsuka Pharmaceutical Co., Ltd. For more information, please visit www.pharmavite.com.
Related: New & Expanding Companies in the SCV
Contact the SCVEDC – if you're looking to relocate, expand or get started, our business services team provides consultation and assessment that is professional, unbiased and confidential, giving you a one-stop resource center to support you through your relocation or expansion journey to the Santa Clarita Valley.
The Santa Clarita Valley Economic Development Corporation (SCVEDC) is a unique private / public partnership representing the united effort of regional industry and government leaders. The SCVEDC utilizes an integrated approach to attracting, retaining and expanding a diversity of businesses in the Santa Clarita Valley, especially those in key industry clusters, by offering competitive business services and other resources.