How well do you know the businesses in the Santa Clarita Valley?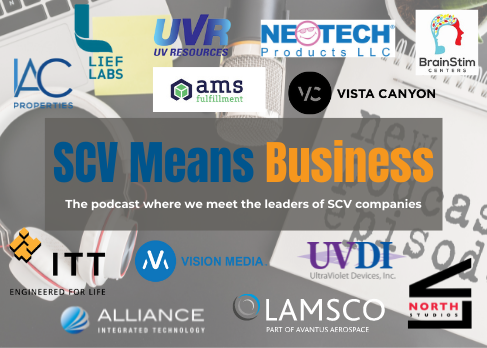 Most residents don't realize that SCV is home to a broad range of companies across major industry sectors including Aerospace & Defense, Advanced Manufacturing, Biotech & Medical Devices, Digital Media & Entertainment, and Information Technology. The Santa Clarita Valley is also one of the few places in LA County that is seeing increasing population growth, with numerous ongoing residential, commercial, and industrial projects.
Over the past several years I have been interviewing many of the leaders of these innovative companies for our podcast series "SCV Means Business". I am inspired by their commitment and dedication to their employees, as well as our community.
In our podcast series you'll hear from ITT Aerospace and Lamsco West on how they design, develop, and manufacture crucial products for both military and commercial aerospace sectors. Manufacturing of many different kinds are found here in SCV. You'll also discover how newly expanded Leif Labs (recently named among the fastest-growing companies in the US) is innovating the dietary supplement market and making changes to evolve with it. Speaking of health, listen in on both UltraViolet Devices and UV Resources on the various applications of UV technology, including drinking water and air disinfection, and improving our indoor air quality. It's fascinating how important a role UV can play in addressing the COVID-19 pandemic, and how the technology can be implemented in a safe and efficient manner.
It's widely known that the Santa Clarita Valley is where many TV shows and movies are filmed. Additionally, there are about 40 soundstages such as recently expanded LA North Studios who joined us to discuss trends in production space and the impact of new streaming services on the film and television industry. This wealth of production space has, in turn, attracted several companies that support the film industry into the area. Listen in on Alliance Integrated Technology who provide high performance storage and computing for the media and entertainment space, and how Vision Media provides innovative digital and physical solutions to various businesses in both film and tv. It's no wonder that SCV is often referred to as Hollywood North.
One of the big advantages to Santa Clarita is it's abundance of open areas for development. Listen in as Jim Backer talks about the Vista Canyon residential project, that combines high value homes with creative office spaces, new park and metro access, and exciting retail opportunities. Commercial development has also been booming, as you'll learn from our podcasts with the IAC Commerce Center and the Center at Needham Ranch. Each provided hundreds of thousands of square feet of highly desired real estate, making room for companies like LA North Studios to expand, and creating ideal operating centers for newcomers like DrinkPAK, Amazon, and more.
There are many more podcasts already available and even more to come. I am continuously amazed by the diversity, innovation, creativity, and dedication of our Santa Clarita Valley businesses. I hope you'll enjoy learning about them through this podcast series as much as I have. Visit www.scvedc.org/podcastpodcast for more information. SCV Means Business is now streaming anywhere you listen to your podcasts like iTunes, Spotify, Stitcher, and on our website. Now released on video as well, visit YouTube!
The next time you are driving near one of our business parks, take a moment to think about what might be going on inside. The next great invention could be underway!
The Santa Clarita Valley Economic Development Corporation (SCVEDC) is a unique private / public partnership representing the united effort of regional industry and government leaders. The SCVEDC utilizes an integrated approach to attracting, retaining and expanding a diversity of businesses in the Santa Clarita Valley, especially those in key industry clusters, by offering competitive business services and other resources.