Richard Photo Lab Grows Again in the Santa Clarita Valley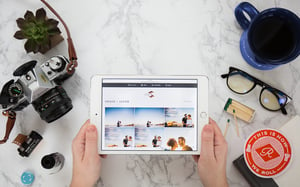 For the past 50 years, Richard Photo Lab has been a top source for film processing and printing. In a world where much of film photography has been overtaken by digital technologies, Richard is one of the few labs that remain that cater to devotees of analog film. However, that doesn't mean that Richard's processes are stuck in the past. In fact, quite a lot of effort and engineering has gone into streamlining and modernizing their film development and print fulfillment.
Richard Photo Lab relocated to the Santa Clarita Valley from Hollywood in 2015 with its thirty-eight employees. Since then, business has been good, and the company felt that they have finally found a city they could call "home". With their lease term in their current location nearly expiring, the leadership team decided to purchase a building at 21515 Centre Pointe Parkway, expanding their operation into a larger, more state-of-the-art facility. CBRE's Matt Dierckman represented the seller and Richard Photo Lab was represented by David Wash of Stone Miller.
Planning for the long-term has always been a priority for the lab. Their new space will provide much needed electrical upgrades and space efficiencies. Improvements like this will help support their modern online print ordering and film ordering developed in recent years. With the move, Richard Photo Lab can truly put down roots in the Santa Clarita Valley, not only allowing them to continue to meet the demands of their growing customer base, but providing stability for their employees as well.


SCVEDC President and CEO Holly Schroeder said of the expansion, "We are thrilled with the continued success of Richard Photo Lab. They are part of our strong and growing Digital Media and Entertainment cluster here in the Santa Clarita Valley, and are a valuable resource to those in the industry who rely on high-quality analog film processing and photo printing."


The Santa Clarita Valley Economic Development Corporation (SCVEDC) is a unique private / public partnership representing the united effort of regional industry and government leaders. The SCVEDC utilizes an integrated approach to attracting, retaining and expanding a diversity of businesses in the Santa Clarita Valley, especially those in key industry clusters, by offering competitive business services and other resources.