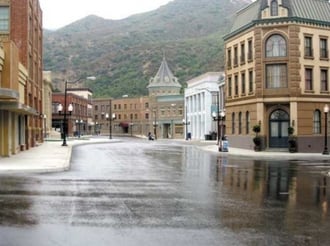 Santa Clarita is ready for its close-up!
Did you know that the Santa Clarita Valley (SCV) has long been known as Hollywood's backlot? Thanks to its close proximity to Hollywood and Los Angeles, its scenic backdrops, and filming incentive programs from the City, entertainment in the SCV has a long and storied history! All this vibrant television and film location filming added $33 million into the Santa Clarita economy last year. It's the fourth consecutive year that the estimated economic impact generated from location filming has topped $30 million.
Coming to you soon by way of the Santa Clarita Valley:
Santa Clarita Diet
This dark comedy starring Drew Barrymore and Timothy Olyphant showcases Barrymore as a suburban real estate agent who dies and comes back with a taste for human flesh. The first season will be available on Netflix starting February 3rd.
Netflix also has two other shows which filmed in the SCV, "Ultimate Beastmaster", a reality competition series airing February 24th, and "Atypical", an upcoming scripted series about a family with an autistic teenager.
And two HBO series recently filmed at the Rancho deluxe movie ranch in Santa Clarita: '"Westworld," which took advantage of its vast wilderness areas, and "The Young Pope," which used the ranch's Mediterranean-style villa.
Among the movies filmed in Santa Clarita is "A Wrinkle in Time", the childhood classic by Madeleine L'Engle. Directed by Ava DuVernay and starring Reese Witherspoon, Chris Pine, Zack Galifianakis and Oprah Winfrey. With Frozen writer and co-director Jennifer Lee on the screenplay, this Disney release is slated for April 6, 2018.
If you have questions regarding entertainment in Santa Clarita, contact the SCVEDC – their business services team provides information and research supporting entertainment businesses in the Santa Clarita Valley, along with coordinating networking opportunities with your peers.
The SCV offers studio space, natural backgrounds, and open acreage easily lending its hand to some of the most popular filming locations in the world.
The Santa Clarita Valley Economic Development Corporation (SCVEDC) is a unique private / public partnership representing the united effort of regional industry and government leaders. The SCVEDC utilizes an integrated approach to attracting, retaining and expanding a diversity of businesses in the Santa Clarita Valley, especially those in key industry clusters, by offering competitive business services and other resources.