SCV Again Hosts Amgen Tour of California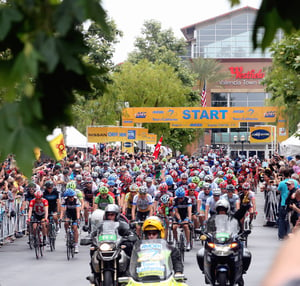 As America's most successful cycling race, the Amgen Tour of California is one of the nation's largest and most recognized annual sporting events. Throughout seven stages over seven days, the world's elite cyclists will contest more than 750 miles of roadways, highways and coastlines from Sacramento to Pasadena. The Amgen Tour of California (ATOC) brings the drama and excitement of professional cycling to California for the 14th consecutive year in 2019 from May 12-18. In 2019, Santa Clarita will return as a host city, bringing the total of stages hosted in Santa Clarita to 14 – the most stages in race history!
The Amgen Tour estimates the event generates a total of $100 million in economic impact for cities that host parts of the race. The race draws world champions, Olympic medalists and Tour de France competitors from around the world — as well as an international audience watching on TV.


Holly Schroeder, President and CEO of the Santa Clarita Valley Economic Development Corporation remarked, "Any time there is a national sporting event hosted in our region it's a good thing for the economy. Not only does it generate a positive economic impact for our local businesses, it also puts an international spotlight on the Santa Clarita Valley."
"Every time we've hosted a stage we draw large crowds that are excited to cheer on and welcome the cyclists to our city. It's an amazing opportunity to bring a world-class event to our backyard," said Frank Oviedo, Assistant City Manager for the City of Santa Clarita.
May 18, 2019

Stage 7 Men's Start and Stage 3 Women's Start

Location: Town Center Drive on Westfield Valencia Town Center

Time: 8:00 a.m. to noon

Women's Stage Start: 9:05 a.m.

Men's Stage Start: 10:35 a.m.
The Santa Clarita Valley is known for its beautiful scenery, open space, and vibrant entertainment, all within a close proximity to Los Angeles. From theme parks and historic house tours to endless outdoor recreation and celebrity sightings, you can fill your days with plenty of fantastic experiences for all ages. SCV is ideally situated near all the top Southern California events and excursions. The Santa Clarita Valley is a great location for business in part because of its high quality of life. Companies and their teams love it here.
The Santa Clarita Valley Economic Development Corporation (SCVEDC) is a unique private / public partnership representing the united effort of regional industry and government leaders. The SCVEDC utilizes an integrated approach to attracting, retaining and expanding a diversity of businesses in the Santa Clarita Valley, especially those in key industry clusters, by offering competitive business services and other resources.