Santa Clarita Valley-based 24/7 Events Announces Major Expansion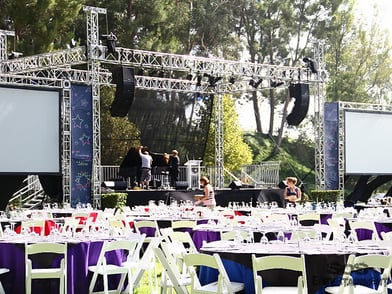 24-7 Events, a nationwide event equipment rental company based in Santa Clarita, CA, announced its expansion into a newly constructed industrial property located within the Valencia Commerce Center in Valencia, Calif.
"We are excited about expanding our company into this new facility," said Rob Cruikshank, President of 24/7 Events. "The space is perfectly suited for our needs, and the geographic location offers our team easy access to major transportation hubs. This benefit allows for easier travel not only within the greater Los Angeles market and the state, but nationwide as well allowing us to serve our clients more efficiently."
The new headquarters will be in a 50,930 square foot, state-of-the-art industrial building, located at 27788 Hancock Parkway in the Valencia Commerce Center. The location provides excellent access to both SR-126 and I-5 and is in proximity to many retail and dining establishments.
24/7 Events is a premier event rental and production company offering over 20-years of experience in event rentals and event management bringing vision, reliability, and innovation to the event industry. Offering an extensive inventory ranging from basic items such as tables, chairs and linens to the latest trends in event furniture and tenting, 24/7 Events is equipped to provide needs for small intimate gatherings, corporate events, large conferences, and more.
24/7 Events specializes in the newest technology of ClearSpan structures enabling the company to create temporary custom spaces upward of 100k square feet to serve large sporting events, corporate conferences, university classroom space and more.
"24/7 Events has grown in size and expanded its services; it now has customers across the country. We are pleased that the company will continue to have its headquarters here in the Santa Clarita Valley," said Holly Schroeder, President & CEO of the Santa Clarita Valley Economic Development Corporation. "The recent development of new industrial buildings has positioned the Santa Clarita Valley well so that companies like 24/7 Events can expand in their hometown."
24/7 Events will be relocating from its current location in Canyon Country.
Matt Dierckman of CBRE represented the tenant in facilitating the long-term lease that will commence April 1, 2020. Craig Peters of CBRE represented the landlord.