SCV Community Steps-Up During Coronavirus Crisis


The Santa Clarita Valley has had more than its fair share of challenges this year, and the current COVID-19 pandemic is certainly one of them. But despite it all, our tight-knit community has a reputation for stepping up and taking care of each other. From folks offering to run errands for elderly or sick neighbors to businesses finding creative solutions in the face of seemingly insurmountable obstacles, I am in awe of how our community responds to difficult situations.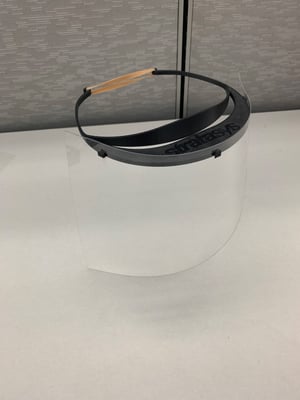 One such company that is providing resources in the face of this crisis is Stratasys Direct Manufacturing, a world-wide 3D printing company with a manufacturing location in SCV. In a press released dated March 22 they announced that they are launching a global mobilization of the company's 3D printing resources and expertise to respond to the COVID-19 pandemic and donating printing capacity across all regions. The initial focus is on providing thousands of disposable face shields for use by medical personnel. In the United States, Stratasys has set an initial goal of producing 5,000 face shields by Friday, March 27, at no cost to the recipients. This includes both a 3D-printed frame and a clear plastic shield that covers the entire face. The company will have the ability to scale to an even faster rate of production.


Harbor Freight Tools, with a location in the Santa Clarita Valley, has generously decided to donate their entire supply of the personal protective equipment items to front line hospitals with 24 hour emergency rooms in the communities served by their stores. Items to be donated include N95 masks, face shields, and 7 and 5 mls nitrile gloves.
Another local company with resources to aid in the crisis is 24/7 Events. While their normal operations typically include happier events such as concerts, weddings, parties, and business conferences, they recently were able to acquire tents to help medical professionals and streamline drive-through COVID-19 testing. Partnering with Shelter Structures America, they can quickly construct comfortable and safe quarantine tents to isolate patients as they await test results. In addition, they are immediately available to provide drive-through testing structures and other tents to help hospitals and medical facilities expand their operations during this time.
Another SCV company Lavi Industries, makes crowd control stanchions. They are ready and able to assist with orderly line queueing at testing facilities and drive through food pickup locations.


SCV-based company Quest Diagnostics, a world leader in diagnostic testing services, is committed to providing fast action and laboratory testing on emerging health threats so scientists can gain critical insights to aid in the response. Quest Diagnostics is now receiving COVID-19 specimens from nation-wide testing.


SCV residents are also offering assistance with critical medical needs. Henry Mayo Hospital and the Red Cross recently put out a call for blood donations due to a serious blood shortage due to COVID-19 and there was an outpouring of support.


To help Santa Clarita Valley residents with day-to-day needs, local charity Feed SCV, in partnership with The Signal, The SCV Chamber, Santa Clarita Magazine and Elite Magazine, has compiled a list of restaurants that are providing take-out and delivery options. And several local markets have committed to open early for seniors, pregnant mothers and medically fragile individuals.
To help students who are no longer attending school, School Day Cafe, a joint-effort by SCV school districts, has been serving thousands of nutritious, free lunches to kids throughout the valley at several locations.


Things are tough for many SCV small businesses and residents. But in the face of this crisis I have seen people come together in support of one-another like never before; from impromptu "quarantine car parades" to book clubs discussing their latest read virtually, and free online dance and fitness classes by local studios to the Santa Clarita Library offering storytime and music for kids on Facebook Live, the Santa Clarita Valley continues to be the close-knit and supportive place that we all love.


READ MORE: SCV Coronavirus (COVID-19) Information & Resources for Businesses
I am thankful to be a part of this wonderful community, and proud of the work that the Santa Clarita Valley Economic Development Corporation and our dedicated Board of Directors does to assist SCV businesses. For the latest information about COVID-19 check out our resource page: www.scvedc.org/coronavirus. If your company needs assistance navigating this crisis the SCVEDC team is here to help. Contact us at scvedc@scvedc.org.


As a unique private / public partnership representing the united effort of regional industry and government leaders, the Santa Clarita Valley Economic Development Corporation (SCVEDC) adopts an integrated approach to attracting, retaining and expanding a diversity of businesses. Our overarching goal is to support the creation of high-paying jobs for our educated workforce, stimulate economic activity that grows the regional tax base, and strategically position the Santa Clarita Valley and its businesses to better compete in the global economy. For more information, visit www.scvedc.org.