SCVEDC attends Meet the Consultants in Sacramento, California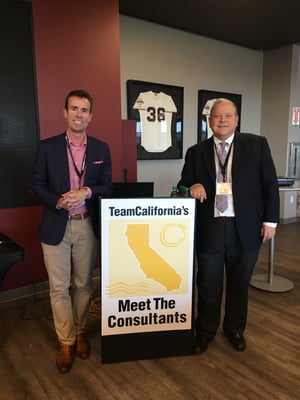 TeamCalifornia, a statewide non-profit with a focus on marketing California as a great location for business, hosted Meet the Consultants in Sacramento, California on November 5 and 6, 2019. This two day event offered economic development organizations (EDOs) from across the state opportunities for learning from and networking with top site consultants who gave presentations on a wide variety of topics such as California competitiveness, foreign direct investment, incentives, trends in advanced manufacturing, and labor and workforce.
Site consultants in attendance included Christopher Lloyd, VP and Director of Infrastructure and Economic Development, McGuireWoods Consulting; Leslie Wagner, Senior Principal, Ginovus; Mark Hefner, CEO and Shareholder, MGO Realty Advisors; Michael Hirou, Chief USA Representative Manager, Tractus; Richard Sheehy, Director of Site Selection, Jacobs; and Spencer Shobert, Senior Managing Director, Newmark Knight Frank.
Spencer Shobert was joined by Robert Hess (via Skype), also of Newmark Knight Frank, in a presentation that was arguably the most impactful of the event; a candid perspective on the challenges and advantages of doing business in California. According to Shobert and Hess, both site consultants and CEOs perceive that California is a place of high taxes, over regulation and impact fees, overbearing competition, a high cost of living, lack of affordable housing, aging infrastructure, and low. There is a persistent message that "California is a great place to start, but not where you scale" and they provided stats for companies who have chosen to move out of California to the presumably greener pastures of Texas, Denver, and Nevada.
To combat this negative messaging, Shobert and Hess strongly encouraged the State as well as local EDOs to do a better job of telling the true story of doing business in California. For example, California is home to 40 million people (Texas at #2 has only 28 million) and leads the nation with the most educated and innovative workforce. Over 2 million jobs have been added since 2012, and California consistently outpaces the national growth rate. California's largest cities are still considered the most desirable places to live in the U.S. and our colleges are ranked among the best. California is the beachhead to Asia and the central valley is the agricultural jewel of the state and the nation. California is home to big data, analytics, tech and biotech and has a thriving startup culture and the funding to back it.
The NKF consultants' final recommendations for the group were to actively sell competitive advantages to attract new outside investment, target companies within California who are expanding or relocating (to make sure they stay here), match communities with their unique value propositions, and to counter perceived shortcomings with targeted incentives and talent education programs.
In addition to the EDOs and site consultants present at the event, Lenny Mendonca and Kaina Pereira from the Governor's Office of Business and Economic Development, along with several additional staff members, were in attendance. They clearly expressed their continuing support for California businesses and signaled their commitment to help companies stay and grow in California, as well as helping the state become an even more attractive location for business.
The Santa Clarita Valley Economic Development Corporation (SCVEDC) is a unique private / public partnership representing the united effort of regional industry and government leaders. The SCVEDC utilizes an integrated approach to attracting, retaining and expanding a diversity of businesses in the Santa Clarita Valley, especially those in key industry clusters, by offering competitive business services and other resources.