SCVEDC Honored by The Signal as 2018's Growth Leader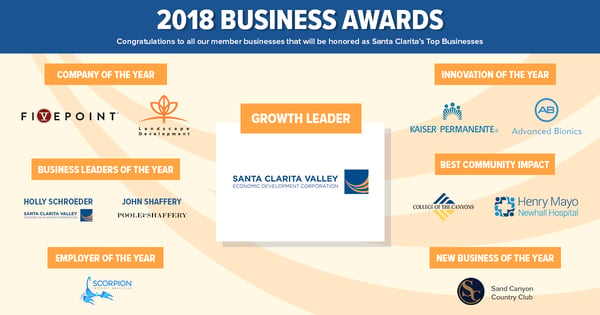 Last week The Signal hosted their annual business awards. Among the honorees was the Santa Clarita Valley Economic Development Corporation (SCVEDC) for Growth Leader. Growth is a very important theme here at SCVEDC. In fact, growing the number of high-quality jobs in the Santa Clarita Valley is our mission.
SCVEDC was formed 9 years ago in the midst of the Great Recession by business leaders in the community. They believed that diversifying the economy and focusing on core business clusters were valuable strategies to strengthen and rebuild the local economy during and after the economic downturn. Because of the Santa Clarita Valley's unique geography – the area west of I-5 is unincorporated Los Angeles County and the area east of I-5 is the City of Santa Clarita – these leaders understood that a unified approach to economic development would be needed to bolster the economy of the entire valley.
Thus, the Santa Clarita Valley Economic Development Corporation was born to help bring quality jobs to the region, as well as support and retain local businesses already in place. Funded by the County of Los Angeles, the City of Santa Clarita and an investor board of 50 business leaders, and also working closely with College of the Canyons as a vital strategic partner, SCVEDC provides a unique public-private partnership that is not typically seen in other regions.
In the nine years since its inception, SCVEDC has helped attract numerous businesses bringing thousands of high-quality jobs in the Santa Clarita Valley such as Crissair, Sunkist, Samsung, Ramboard, Richard Photo Lab, California Resources Corporation, Logix Federal Credit Union, and Avita Medical to name a few. SCVEDC's business retention efforts have touched tens of thousands of jobs with business assistance visits and projects aimed at strengthening local companies by providing a "one-stop" resource for support.
Growth is good.
The past nine years have brought both strong economic growth and population growth. In fact, the City of Santa Clarita was recently ranked the 23rd fastest growing city in America by WalletHub and is already the 3rd largest in LA County. And while that might frighten a few, it's really a good thing. Population growth can spur advancements in technology, infrastructure and an increased standard of living.
Economically speaking, a growing community means higher demand for jobs, housing, and schools, which means more opportunity for businesses to hire, promote, and expand. Increased revenue means an equivalent increase in taxable income, allowing for better, high-quality jobs and improvements to infrastructure. At the same time, a deepening pool of talent inspires employees to work harder and smarter, to not just maintain the status quo but to improve it, to progress, feeding innovation.
The myth that growth has a negative effect on a community isn't new. It may seem true, but when a community prepares for growth with thoughtful planning, and takes steps to ensure population increase is met with innovation and investment, then growth is truly the engine that drives a community to prosperity. The leadership of the Santa Clarita Valley is prepared to meet the needs of a growing community.
SCVEDC was thrilled to be named The Signal's 2018 Growth Leader and is committed to vigorously pursue our mission of attracting and retaining high-quality jobs in our valley for decades to come.
The Santa Clarita Valley Economic Development Corporation (SCVEDC) is a unique private / public partnership representing the united effort of regional industry and government leaders. The SCVEDC utilizes an integrated approach to attracting, retaining and expanding a diversity of businesses in the Santa Clarita Valley, especially those in key industry clusters, by offering competitive business services and other resources.