SCVEDC is Here to Help your Company GROW in 2019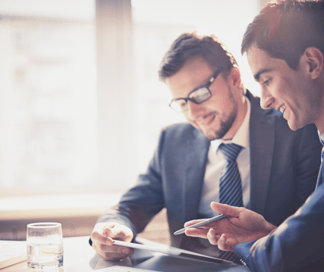 A major function of our work at the Santa Clarita Valley Economic Development Corporation (SCVEDC) is to monitor the diverse issues facing businesses in our region and provide support to companies as they work through these issues. This is accomplished in a variety of ways through our business assistance program, our business attraction efforts, and our partnerships with our Board, COC, the City of Santa Clarita and the County of Los Angeles to name a few.

Our business assistance visits allow companies and the SCVEDC to get to know each other, capture the unique business dynamics and challenges faced by each company and offer a tailored mix of support and assistance. These in person, confidential meetings offered by SCVEDC remain the most effective way of delivering customized solutions with greatest positive economic impact.
SCVEDC also provides opportunities for knowledge sharing with workshops and seminars that feature subject experts on topics that are critical to business success. At these events, local companies not only stay ahead of the information curve, but also directly benefit from networking with their peers. In addition to managing two industry coalitions, the Aerospace & Defense Coalition and the Bioscience & Medical Devices Coalition, SCVEDC offers general interest seminars to SCV business leaders.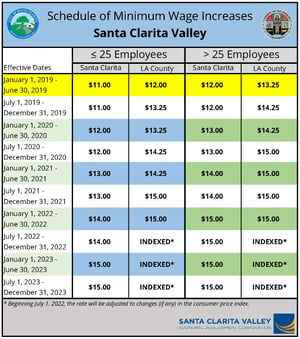 One issue facing local companies today is the minimum wage increase at both the state and county level. The Santa Clarita Valley is in an especially unique situation in that the City of Santa Clarita and the County of Los Angeles have two different minimum wage increase schedules which is causing challenges for many of our local employers. As you are likely aware, the minimum wage increased in the City of Santa Clarita as of January 1.
This summer SCVEDC, along with Poole and Shaffery, LLP, explored strategies companies are using to recruit and train workers upon hire and throughout their career at a Minimum Wage Forum. Other issues that were addressed included wage compression, changes in benefits and employee management. A pre-event employer survey was conducted that provided insight on how local companies are handling the increases.
This forum was just one part of our ongoing effort to be the one-stop resource for local businesses. From obtaining workforce training at low or no cost to learning about local, state, and federal tax incentives, from expediting business issues resolution to managing local business coalitions, the SCVEDC is the focal point in delivering the support local companies need.
Our Business Assistance team is ready to meet you to discuss how to make 2019 a productive and prosperous year. Contact us to set up a no-cost visit today!
The Santa Clarita Valley Economic Development Corporation (SCVEDC) is a unique private / public partnership representing the united effort of regional industry and government leaders. The SCVEDC utilizes an integrated approach to attracting, retaining and expanding a diversity of businesses in the Santa Clarita Valley, especially those in key industry clusters, by offering competitive business services and other resources.