SCVEDC Visits Hong Kong
As part of its ongoing effort to promote international investment into the Santa Clarita Valley (SCV), and to facilitate export opportunities for SCV companies, SCVEDC President & CEO Holly Schroeder recently traveled to Hong Kong. This was SCVEDC's first return to Hong Kong since it joined then-Supervisor Michael D. Antonovich for a Chinese trade mission in 2014.
D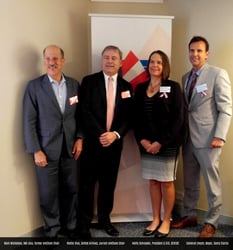 uring the trip, SCVEDC made presentations to the American Chamber of Commerce – Hong Kong, the US Department of Commerce Commercial Services Division of the American Consulate, the Hong Kong Trade Development Council, and a private Chinese investment company. SCVEDC presented the Santa Clarita Valley as the growth opportunity and business-friendly region of Los Angeles County.
Also participating in the delegation were Santa Clarita Mayor Cameron Smyth and SCVEDC Board member Jim Backer.
The trip is a part of SCVEDC's efforts to attract foreign direct investment (FDI) including company expansions into the SCV. SCVEDC participated in the Select LA conference hosted by the World Trade Center-Los Angeles last month, which was instrumental in organizing meetings in Hong Kong. SCVEDC and the Hong Kong Trade Development Council intend to hold a workshop for Santa Clarita Valley companies who want to expand export opportunities in Asia.
For more information on international companies in the greater Los Angeles region, read the World Trade Center's FDI report here.