Show Me the Money: 6 Ways to Finance Your Startup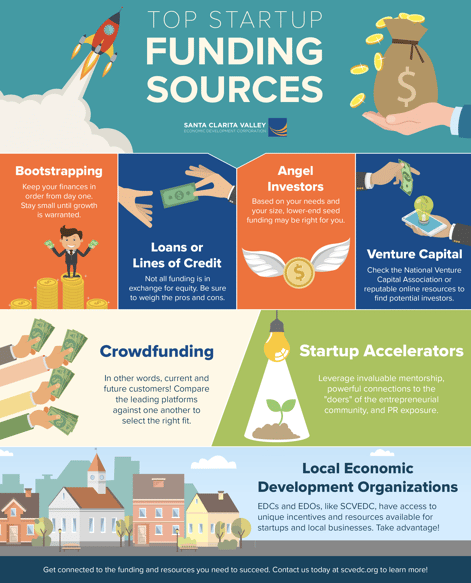 You've got to spend money to make money. Even if you found a way to genetically modify trees so they literally bloom with currency, you will still need startup capital to get those saplings going.
Unless you've already earned your fortune, or are related to someone who has, finding the funds to start your own company can seem like a daunting task. Don't worry. There are resources out there to help you. And you don't need a ton of business savvy to earn their help; you just need to know where to go…
Source 1: Venture Capitalists
There are hundreds of venture capital firms in the U.S. dedicated to funding small companies in exchange for a stake in the business. The trick is to figure out which one is right for you and to craft your pitch to make your offer irresistible.
Venture capital firms will typically want to invest in companies that have already demonstrated some growth (i.e. not a brand-new firm), and a high growth potential. They'll also likely demand a say in how your business is developed.
Check the National Venture Capital Association or other reputable online resources to find potential VC connections.
Source 2: Angel Investors
You may be wondering, "What are angel investors?" and, "What is the difference between venture capitalists and angel investors?" Angel investors are wealthy individuals or groups investing their own money into a company (usually on a smaller scale than VCs), most frequently in exchange for convertible debt or equity in the business. They'll still want a stake in the business, but might not demand a say in how it's developed.
You don't need to know an angel investor to attract their attention. There are whole groups of them out there looking to support small businesses, even ones just starting out.
Source 3: Crowdfunding
The 21st century way of getting your startup off the ground. Crowdfunding sites like Kickstarter and Indiegogo can do more than just get low-budget movies made, they can also rally a community behind a burgeoning business and seek support from current and future customers!
There are even crowdfunding sites that are specifically targeted to startups and small businesses, such as RocketHub, DreamFunded, and Onevest. Taking advantage of those online resources and communities may be beneficial in narrowing the focus and finding quality connections.
Source 4: Loans
If you've got a business idea that just can't capture the attention of investors, or if you're trying to avoid giving up too much equity, a small business loan may be the right way to go. Vying for a loan over a venture capital firm or angel investors can also give you more freedom to develop your business the way you want to.
The U.S. Small Business Association guarantees loans, and can help you find the right lender for you.
Source 5: Startup Incubators and Accelerators
Unlike venture capitalists or angel investors, startup incubators aren't always out to make a profit; they're around to help your small business succeed. Incubators can help your small business not just through seed funding, but by providing a workspace, networking opportunities, and mentorship. Accelerators are quite similar but often accept startups that are bit further along in their "growth journey".
Many times, governments will start incubators to stimulate economic growth. Santa Clarita has a business incubator dedicated to helping creative and technology entrepreneurs. Other independent programs, such as CalArts' HIVE (or Hybrid Incubator for Visionary Entrepreneurs), also exist for the benefit of developing leadership and thinking skills as well as blossoming innovative business, product, or enterprise ideas from inception to fruition.
Source 6: Economic Development Organizations & Corporations
Speaking of stimulating economic growth, economic development organizations (like SCVEDC) can play a major role in funding your startup and stretching those dollars.
EDCs and EDOs usually help new businesses by way of tax incentives like credits and exemptions, or through grants. Some also provide loans. Most all, however, have access to unique financial incentives and invaluable resources that they desire to connect local businesses to!
Like startup incubators, EDOs offer a bevy of financial help and business resources for companies looking to set up shop in their community.
No one funding source is the "right" solution for every startup. Some entrepreneurs insist on maintaining complete control over their company. Others are unwilling to take on debt. It's important for entrepreneurs to realize that, when it comes to funding that money tree, they have multiple ways of acquiring startup seeds when starting out and, in the longer term, keeping that tree prosperous and strong.
Related: The 4 C's of a Strong Startup Culture
Contact us today to get connected to the funding and resources you need to succeed. Your startup dollars are closer than you think…
The Santa Clarita Valley Economic Development Corporation (SCVEDC) is a unique private / public partnership representing the united effort of regional industry and government leaders. The SCVEDC utilizes an integrated approach to attracting, retaining and expanding a diversity of businesses in the Santa Clarita Valley, especially those in key industry clusters, by offering competitive business services and other resources.