Southern California Edison's Wildfire Mitigation Plan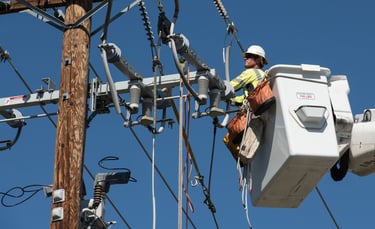 Since many businesses experienced SCE power shutoffs last year, SCVEDC has been communicating with officials at the organization about its fire prevention and mitigation plans.


Earlier this year, Southern California Edison announced plans to inspect thousands of miles of power lines, remove trees as necessary in high-risk areas, and segment certain components of power lines as part of a $582 million Wildfire Mitigation Plan. These improvements greatly reduce the likelihood of wildfires and preemptive, public safety power shutoffs (PSPS) in SCV business parks.
To date, specifically, in the Santa Clarita area, SCE:
Installed 33 weather stations and is planning additional sites by the end of 2020 to help better forecast potential wildfire conditions
Is replacing more than 155 miles of power lines with covered conductor (insulated wires) by the end of 2021, which will help reduce wildfire risk, improve reliability, and reduce the potential for PSPS
Developed plans to sectionalize the electrical circuits in the area to reduce the number of customers impacted
As in past years, when there is a high risk for a wildfire, SCE will declare a PSPS event and temporarily shut off power to the area to prevent our electric system from becoming an ignition source. With these additional upgrades and improvements, SCE expects to see a 30-50% reduction in the number of customers de-energized by PSPS in the area under similar conditions as last year. This will continue to increase as additional improvements are made over the next few years. That means that a substantial portion of Santa Clarita residents and businesses can expect fewer and/or shorter PSPS events.
PSPS will remain one of the tools SCE will use to protect public safety and to reduce the risk of wildfires. SCE recognizes the impact of PSPS events on residents and businesses, especially during the COVID-19 pandemic, and has been working to make changes to the overall PSPS approach. This includes ensuring customers are informed and prepared for PSPS events by:
Expanding notification alerts to include NextDoor and improving website capabilities, which now includes maps where customers can look up PSPS events and status by address


Making Community Crew Vehicles and Community Resource Centers (current locations include the College of the Canyons and the Residence Inn in Stevenson Ranch) available for customers in affected areas during a PSPS event to receive updates, water, snacks, ice, and other supplies
Providing customer care programs and incentives for electric portable power stations, energy storage, and generation equipment
To learn more about SCE's wildfire efforts, sign up for PSPS alerts, and find information on customer care programs and emergency preparedness tips, visit www.sce.com/wildfire. For the status of repair or maintenance outages, customers can visit: www.sce.com/outage.
The Santa Clarita Valley Economic Development Corporation (SCVEDC) is a unique private / public partnership representing the united effort of regional industry and government leaders. The SCVEDC utilizes an integrated approach to attracting, retaining and expanding a diversity of businesses in the Santa Clarita Valley, especially those in key industry clusters, by offering competitive business services and other resources.