The Startup Grind
Starting a business is so many things – exciting, stressful, challenging, crazy, fun, terrifying… For today's entrepreneurs, the challenges of running a successful startup can be overwhelming – you can drown in the information available online, and how do you find (and identify!) the relevant, useful information? Some days it all just seems like a never-ending grind…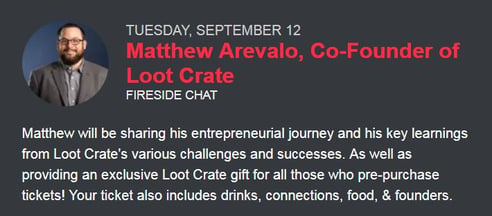 And that's where Google for Entrepreneurs rides to the rescue, with Startup Grind. Startup Grind is a global startup community designed to educate, inspire, and connect entrepreneurs. With monthly events in 250 cities and 100 countries that feature successful local founders, innovators, educators and investors who share personal stories and lessons learned on the road to building great companies, Startup Grind is a connected online and offline network of vibrant startup communities – communities that help fuel innovation, economic growth and prosperity at the local level.
And that community provides critical resources for entrepreneurs and startups. Whether its videos of inspiring stories, learnings and failures about what it took to build the world's top brands, shared by the best entrepreneurs, venture capitalists and thought leaders, or the blogs focusing on specific challenges and topics, the online knowledge base available is focused and relevant. And the live community events offer the opportunity to hear from these amazing founders and investors live and interact with them, and just as importantly, to build relationships with your startup community, giving you a peer group of fellow travelers down the entrepreneurs' road. A community of people who face many of the same challenges, who can share their own learnings and failures, giving and receiving support and sharing local knowledge of the business environment they're operating in.
And as of this summer, Santa Clarita now has its own chapter - Startup Grind Santa Clarita! On September 12th, Startup Grind Santa Clarita will launch with a Fireside Chat with Matthew Arevalo, Co-Founder and CXO of Loot Crate, the premiere fan commerce subscription service (only Inc.'s #1 fastest growing private company in America for 2016!). Join the SCV Startup community and enjoy the launch as Matthew shares his entrepreneurial journey and his key learnings from Loot Crate's various challenges and successes. And as part of its ongoing efforts supporting the SCV business community and its growth, the Santa Clarita Valley Economic Development Corporation (SCVEDC) is sponsoring the Startup Grind Santa Clarita Fireside Chat.