Industrial Market in SCV Never Missed a Beat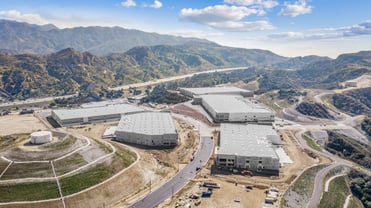 While the COVID-19 crisis initially gave many companies pause for good reason, 2020 was an exceptionally good year for industrial real estate across the board, the Santa Clarita Valley included. In 2020, the SCVEDC was pleased to announce that several new companies chose to locate in the Santa Clarita Valley including two Amazon fulfillment centers, DrinkPAK, a beverage manufacturer, and a state-of-the-art medical testing lab. Several SCV companies expanded as well, including P3 Inc., LA North Studios, Lief Labs, 24/7 Events and Mellady Direct Marketing.


Commercial real estate researchers predict that this growth trend in the industrial sector will continue, especially in communities with a fast-growing population like the Santa Clarita Valley. COVID-19 has altered the way we live and the way we shop, and while that has been problematic for the retail sector, it has meant big gains in e-commerce. As consumers have come to expect faster and faster deliveries, big players in the fulfillment world have been taking on vast amounts of square feet to meet that demand. Smaller logistics companies like AMS Fulfillment in the Commerce Center, which typically focuses on B-to-B fulfillment, quickly changed channels to meet existing demand and consequently have also seen sales increase this year.


Beyond e-commerce, the Santa Clarita Valley has seen expansion in the film industry. After an industry-wide shutdown affecting film and television productions and thousands of workers due to the COVID-19 pandemic, filming is finally back and SCV sound stages are filling up quickly. LA North Studios, one of Santa Clarita's newest and largest soundstage facility and studio operators, signed a five-year lease in November at The Center at Needham Ranch to expand their soundstage capacity. The studio plans to convert the space into a fully functioning satellite soundstage hub when it opens early this year.


Another big growth area nationwide and in the SCV is in the food and beverage industry. We announced late last year that DrinkPAK, an alcoholic and non-alcoholic beverage manufacturer signed a lease at Needham Ranch. The location will house the company's procurement support, complex batching and processing, filling, packaging, on-site storage and distribution. Earlier in the year, another large-scale food manufacturer signed a lease at IAC Commerce Center and another foods business closed escrow on a site in the Valencia Industrial Park. Is the Santa Clarita Valley on the verge of a new cluster? Only time will tell, but we know that our high-end industrial developments and business-friendly environment make our region an attractive location for many kinds of manufacturing.


While there is still much uncertainty around the future of retail and office spaces, there are a few bright spots. At the top of the list, as more companies have announced extended work-from-home situations, many workers now have the freedom to move out of city centers and towards the suburbs. Attracted by the higher quality of life, larger houses that accommodate home offices, private yards, access to hiking and biking trails, and award-winning schools, the pandemic seems to have accelerated the inevitable suburb-move typical of growing families. Companies are taking notice, and we expect that satellite offices will become more commonplace as workers are reluctant to return to long commutes, and COVID-related health protocols will require workspace modifications. New SCV mixed-use developments such as Vista Canyon on the east side of the valley, are ideal for these types of satellite offices.


Despite the challenges of 2020, we are fortunate to live in a community that cares about supporting businesses and places an emphasis on ensuring a high quality of life for its residents. That is why the Santa Clarita Valley will remain an ideal live/work/play location for years to come.
The Santa Clarita Valley Economic Development Corporation (SCVEDC) is a unique private / public partnership representing the united effort of regional industry and government leaders. The SCVEDC utilizes an integrated approach to attracting, retaining and expanding a diversity of businesses in the Santa Clarita Valley, especially those in key industry clusters, by offering competitive business services and other resources.