Kind of a Big Deal – 2017 Transaction of the Year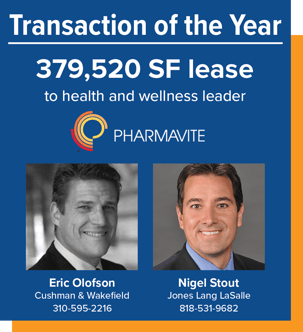 Last week we talked about power brokers and the major impact they have on the communities they work with.

Today we honored our area's power brokers where we revealed the transaction that had the biggest, most positive impact on commercial real estate in our region in 2017 – our "Transaction of the Year".

The winner: 379,520 square foot lease to the health and wellness leader Pharmavite.
Pharmavite, a tenured vitamin and supplement manufacturer, has been in the Santa Clarita Valley for the past 20 years. Last year they signed a lease to move into a state-of-the-art, 229,000-square-foot facility on Witherspoon Parkway, and renewed their lease on their packaging facility (also on Witherspoon).

The move and renewal deepen the company's commitment to their 350 employees in the area, and the Santa Clarita Valley community as a whole.

The men who made those deals happen? Nigel Stout with Jones Lang LaSalle, and Eric Olofson with Cushman & Wakefield.
We sat down with Stout to pick his brain about the deal, our area, and how he got into the business of changing lives: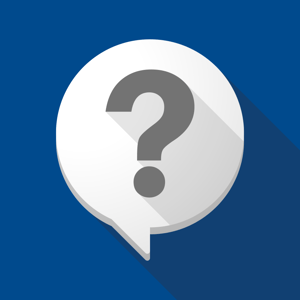 SCVEDC: What attracted you to the commercial real estate industry?

STOUT: I always liked real estate growing up. My father owned a bunch of rental houses and my sibling and I would go clean up and fix them when there was a vacancy or maintenance issue. I learned a lot and liked the fact that it created wealth. Wanting to own my own real estate, I figured the best way to learn about it without having much money starting out was to enter brokerage. I chose commercial over residential because I thought commercial was less subjective and I wouldn't have to work weekends.

I also wanted to meet business owners and executives... What they do is interesting to me. The relationships that I have made over the years are what keep me going.

Finally, I wanted to be my own boss. In commercial real estate you are, for the most part, your own boss and can set your focus and schedule. I like the flexibility and freedom. It's like your own company within a company.


SCVEDC: How did the Pharmavite deal go down?

STOUT: Pharmavite was already in the market. They were looking to consolidate a couple buildings into a 220,000-square-foot building in the market. I had a long relationship with the agent that represented Pharmavite, Eric Olofson. I have assisted Eric in the past on some short-term requirements that Pharmavite had.

Eric told me what they were looking for, and I knew of an off-market opportunity: a tenant was looking to potentially vacate a 229,000-square-foot building early. I approached the tenant, and they said they would be interested if they could mitigate the cost to terminate the lease.

I also had a good relationship with the building ownership having sold them the land back in 1999 and have been their leasing agent since.
At that point, it was just working out the details, terms, and timing. I know it is cliché but it was a win, win, and win for all three parties involved.
SCVEDC: In a commercial real estate transaction, what is typically the leading factor that influences all other decision points?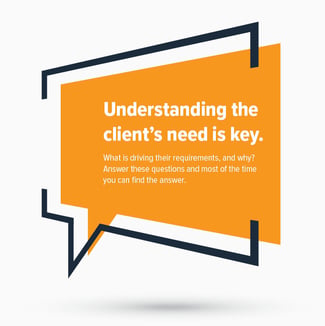 STOUT: Understanding the client's need is key. What is driving their requirements, and why? Answer these questions and most of the time you can find the answer.
SCVEDC: How has Santa Clarita differentiated itself from surrounding areas when it comes to business attraction and retention?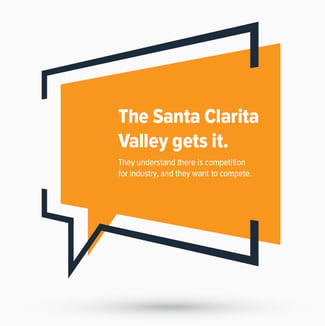 STOUT: The Santa Clarita Valley gets it. They understand there is competition for industry, and they want to compete. They understand that if you want nice houses, parks, and schools, you need good paying jobs.
SCVEDC: What advice would you pass on to owners and executives who are looking to relocate their business?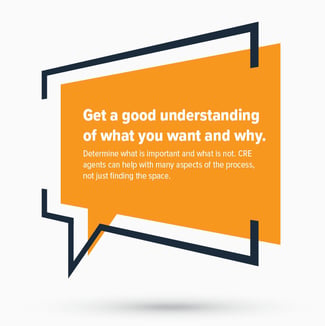 STOUT: Get a good understanding of what you want and why you want it. Determine what is important, and what is not. Timing of the move can be longer than you think so it's never too early to start the process. CRE agents can help with many aspects of the process, not just finding the space. We know the process and can give guidance so the relocation is as less disruptive to your operations.
For more:
(CLICK HERE) Making Big Deals Happen – The Top 5 Qualities of a Power Broker
(CLICK HERE) 6 Key Factors to Consider When Selecting Commercial Real Estate
(CLICK HERE) A Smart Growth Checklist for Small to Mid-Sized Companies
The Santa Clarita Valley Economic Development Corporation (SCVEDC) is a unique private / public partnership representing the united effort of regional industry and government leaders. The SCVEDC utilizes an integrated approach to attracting, retaining and expanding a diversity of businesses in the Santa Clarita Valley, especially those in key industry clusters, by offering competitive business services and other resources.