After snagging the last available building at the IAC Commerce Center in January, LA North Studios has not slowed down in their drive to meet the fervent demand for production space. On Tuesday last week CBRE announced that the company has signed yet another long-term lease at the previous headquarters of MechanixWear Gloves. Just down the street from their most recent acquisition, this striking building adds 70,550 square feet of industrial space to their inventory.
"LA North Studios is thrilled to be expanding and moving forward with our fifth location," commented co-founder John Prabhu. "This will be the third new long-term lease we have negotiated in the past 12 months. This is a dramatic and modern building with features that make it ideal for us to develop and use as a high-end studio. When this facility comes online in the next couple of months, we'll have just under a half million square feet of production space in the region and 15 soundstages."
The property is located in the master-planned Valencia Commerce Center and will be repurposed for production as well as office space. This model of converting industrial buildings into soundstages has been very successful for LA North's rapid growth. According to co-founder Anthony Syracuse, "One has to identify and conceptualize the right property when it comes to selecting a production campus. LA North Studios has established a discerning model based upon experience and needs for constructing sound stages that meet the demands of production. By converting industrial buildings into F-1 Certified stages, we're able to deliver highly functional, cost-efficient stages in substantially less time than purpose-built facilities."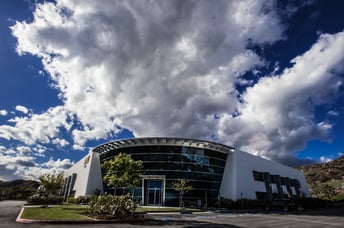 CBRE's Craig Peters and Sam Glendon represented both the landlords and LA North Studios in negotiating this most recent lease, which brought the companies footprint in the Santa Clarita Valley to over 460,000 square feet. "LA North Studios is on a very short list of groups that are actually delivering stages to a market that is starved for this type of space," said Peters. "We're thrilled for LA North Studios, for the owner of the building and for the Santa Clarita Valley."
Glendon lauded the property as well as it's newest utilization, saying "This building has always been one of my favorites in the market as its both architecturally impressive and functionally state-of-the-art. It has been a flagship property for the entire Santa Clarita Valley since it was built, and I am thrilled to have played a role in its next chapter as a sound stage property—a fitting repositioning given the tremendous recent growth of the film and television business in this area."
The Santa Clarita Valley Economic Development Corporation (SCVEDC) is a unique private / public partnership representing the united effort of regional industry and government leaders. The SCVEDC utilizes an integrated approach to attracting, retaining and expanding a diversity of businesses in the Santa Clarita Valley, especially those in key industry clusters, by offering competitive business services and other resources.