Making Big Deals Happen – The Top 5 Qualities of a Power Broker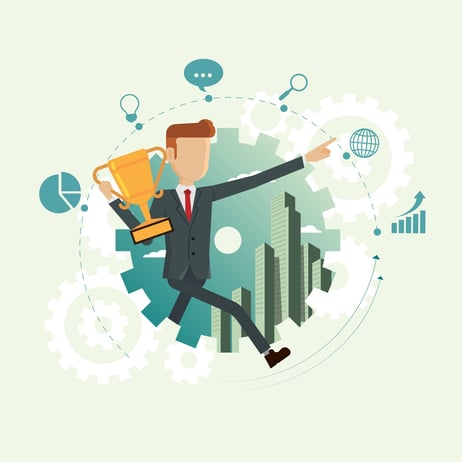 In the world of commercial real estate, there are those who broker, and those who broker.

Here at SCVEDC, we're invested not just in growing our community, but how it grows. Which businesses are setting up shop in our area, and what kind of jobs are they bringing? We love to fight for the good jobs, the high-paying kind that provide major opportunity right in our backyard.
Bringing those businesses to our community takes a combined effort, not just from us here at SCVEDC, but from the tireless brokers who work hard to get those businesses set up at the right location that works for them.

Later this month, we're honoring some of these brokers at our annual Power Broker Breakfast. What makes them "power brokers"? What superhuman abilities do they possess that ensconce them firmly in the upper echelon of their profession?

Uniformly, they all possess these top five qualities:

1. Incomparable Work Ethic
When you're a power broker, there is no such thing as an eight-hour workday. Power brokers work long days, and often on weekends, to close the deal.

2. Deep Knowledge
If a power broker is trying to help find the right location for a biotech firm, you can be darn sure they know exactly what that firm does and what they're looking for in a location, down to details as granular as the temperature they need to keep their cultures at.

Power brokers often have a specialty in this regard, in retail or office or industrial properties. When a potential client comes asking about opportunities outside of the broker's expertise, the broker will refer out (in other words, is comfortable asking for help).

3. Cultivated Relationships
Power brokers spend time building relationships with architects, developers, other brokers (see referrals above), and contractors to not only increase their client base, but to also broaden their understanding of what their clients need and who can best serve those needs.

These relationships help them provide a higher level of service (for example they get a better understanding of costs/requirements/components/fees/legal/zoning etc.).

4. Community Involvement
True power brokers understand the impact a new business has on the entire community, from the jobs created to the potential traffic increase to the boost in nearby property values.

They understand these impacts in part because they're involved in their community, in local government, and with organizations like The Boys and Girls Club or the YMCA. These connections (see #3, above) help them better serve their clients and the area at large.

5. Regional Knowledge
This one seems obvious, but it's important. Power brokers are on top of how an area is developing, the businesses moving in, and the newest properties to hit the market. They won't, for example, present retail space to a vegan café if a butcher shop is about to move in next door. But they will recommend space for a sound stage if an area is rapidly becoming a go-to location for filming.

At the upcoming Power Broker Breakfast, SCVEDC will also announce the 2018 Transaction of the Year, honoring the broker who made the biggest, most impactful transaction in our community in 2018. Who will take home the top honor?

Stay tuned….
The Santa Clarita Valley Economic Development Corporation (SCVEDC) is a unique private / public partnership representing the united effort of regional industry and government leaders. The SCVEDC utilizes an integrated approach to attracting, retaining and expanding a diversity of businesses in the Santa Clarita Valley, especially those in key industry clusters, by offering competitive business services and other resources.