Santa Clarita Studios Scores ABC Show & Debuts New Production Offices
On Friday, February 22 Santa Clarita Studios debuted their new production offices to industry peers, business leaders and public officials. Designed for executives, production and post production teams, these 68 state-of-the-art office spaces are supported by 9 kitchenettes and 3 multi-purpose rooms. Santa Clarita Studios is also home to 17 sound stages and other services to assist productions of all sizes and budgets.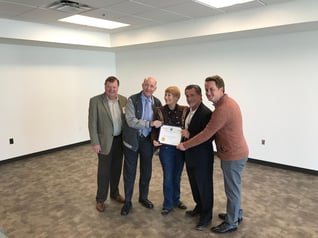 Local officials from the City, County and State were on hand to recognize executives Mike DeLorenzo, Mark Deutsch, and Richard Deutsch of Santa Clarita Studios for its continued growth and contributions to the film industry in the Santa Clarita Valley.
"The City of Santa Clarita loves the film industry," said Mayor Laurene Weste. "Santa Clarita Studios has done a great thing for our community, our City and the industry." Weste was joined by Councilmember Bob Kellar and officials from the City Film Office.
Senator Scott Wilk attended the grand opening and representatives from the offices of Dante Acosta, Steve Knight and Tom Lackey were also on hand.
"The strain on families when filming is elsewhere is immense. If we can just be a bit competitive then productions will stay in California. It's a quality of life issue," said Senator Wilk. Wilk supports the California Film and Tax Credit which offers $330 million in tax credits annually to qualifying productions.
In operation since 1987, Santa Clarita Studios has been the location for a wide variety of films, television shows and commercials such as A Wrinkle in Time, S.W.A.T., Atypical, Shut Eye, and Santa Clarita Diet. Recently, Santa Clarita Studios announced that a spinoff of the hit ABC TV show The Fosters will be filmed on site and occupying eight of the new production offices.
When asked what the most exciting feature of the new production offices was, Mike DeLorenzo quipped, "Parking! We have more parking spaces of any studio anywhere in Los Angeles." On a more serious note he added, "We designed these offices to meet the changing needs of industry professionals. From connectivity and increased office size, to unique features like black ceilings for post-production spaces, we think these new offices will make Santa Clarita an even more desirable film location. Our studio is truly a one-stop shop for pre to post production needs."
Holly Schroeder, President and CEO of the Santa Clarita Valley Economic Development Corporation offered insight on the impact that filming in the Santa Clarita Valley has on our local economy, "The economic impact of filming in the SCV reaches far beyond the studios. Production teams eat at our restaurants, shop in our stores, buy construction materials here and ultimately drive show-related tourism." Schroeder added, "The film industry is one of our primary business clusters, and Santa Clarita Studios is an amazing asset to our Valley and to the industry."
The Santa Clarita Valley continues to be one of the most filmed places in California because it's located within the industry's well-known 30-Mile Zone and offers thousands of film-friendly locations that can double for almost anywhere in the world. In addition, Santa Clarita has dozens of sound stages, more than 10 movie ranches, a responsive City Film Office, and some of the lowest film permit fees in the Los Angeles area.
Read More: Santa Clarita Film Office Sees Another Successful Year
The Santa Clarita Valley Economic Development Corporation (SCVEDC) is a unique private / public partnership representing the united effort of regional industry and government leaders. The SCVEDC utilizes an integrated approach to attracting, retaining and expanding a diversity of businesses in the Santa Clarita Valley, especially those in key industry clusters, by offering competitive business services and other resources.