Manufacturing Jobs Aren't Dying – They're Evolving

You know the scene: A conveyer belt laced with bits of metal and plastic hums along, past a line of burly men in grease-stained white coats and yellow hats, each of them assembling a small bit of the whole. At the end of the line, off rolls a shiny new car, ready for a test drive.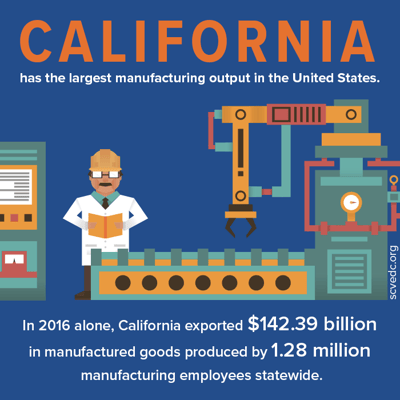 It's a manufacturing model as dated as the Model T. Today, manufacturing is more automated than ever before. Technology has reached a point where some factories can run even without continuous operator attention (for more on this, see the "Advanced Manufacturing Modernization" section of our "Technology Across Vertical Markets" infographic).
But that doesn't mean manufacturing jobs are dying – many are evolving to be less manual, more technical, and better paying.
Take the Evian bottling plant in the French Alps. Evian upgraded the automation in their factory, and did it without laying off a single employee. Forklift operators at the factory, for example, are now technicians who operate automated shuttles.
Those aren't the only workers in the manufacturing sector who are upgrading to newer, higher-paying jobs. The average salary for a worker in the manufacturing field in the United States is now $77,000 (and upwards of $96,000 in California) – and there are plenty of jobs out there. By 2025, as many as two million manufacturing jobs will be available in the United States, from buying and shipping to information technology, engineering, marketing, and finance.
That's partly due to a skills gap employers say they're experiencing with new applicants. About 84 percent of manufacturers have reported a moderate to severe shortage of available, qualified workers.
Manufacturing is relevant to such a wide array of industries – from computers and electronics to furniture and apparel to food and drink to machinery and transportation. There's something for just about everyone!
Getting in the door can not only lead you to a stable, meaningful career, it may also allow you to trade in that old Model T for something a little snazzier.
Getting on the right track to become one of those qualified workers can be tricky. That's why the Santa Clarita Valley Economic Development Corporation (SCVEDC), College of the Canyons, CACT, CMTC, the William Hart District Pathway to my Future Program, and the City of Santa Clarita, are hosting a free panel on Thursday, October 12th with business leaders to discuss career paths and opportunities in manufacturing and advanced technology. Be sure to register for your spot today to learn how you can be a part of an exciting and rapidly changing industry - your career is closer than you think!

The Santa Clarita Valley Economic Development Corporation (SCVEDC) is a unique private / public partnership representing the united effort of regional industry and government leaders. The SCVEDC utilizes an integrated approach to attracting, retaining and expanding a diversity of businesses in the Santa Clarita Valley, especially those in key industry clusters, by offering competitive business services and other resources.