Mythbusters: Why Growth is Good
Hi there! SCVEDC Mythbusters here. Today we're tackling a tough and persistent question: Is growing a community a good thing?
We're no Adam Savage and Jamie Hyneman but, lucky for us, debunking this myth doesn't take a rocket scientist!
Let's dive right in…
THE MYTH:
Community growth (and, in turn, population growth) has a negative impact on quality of life. Neighborhoods become oversaturated. Traffic gets worse. Available jobs are usurped. Culture is forfeited. Pollution darkens the skies.
THE ARGUMENT:
Many who believe the myth have a good reason for doing so: it seems like it should be true. After all, more booming business means more cars on the road, right? More neighbors means more energy, which means more pollution – it's simple math.
But consider this: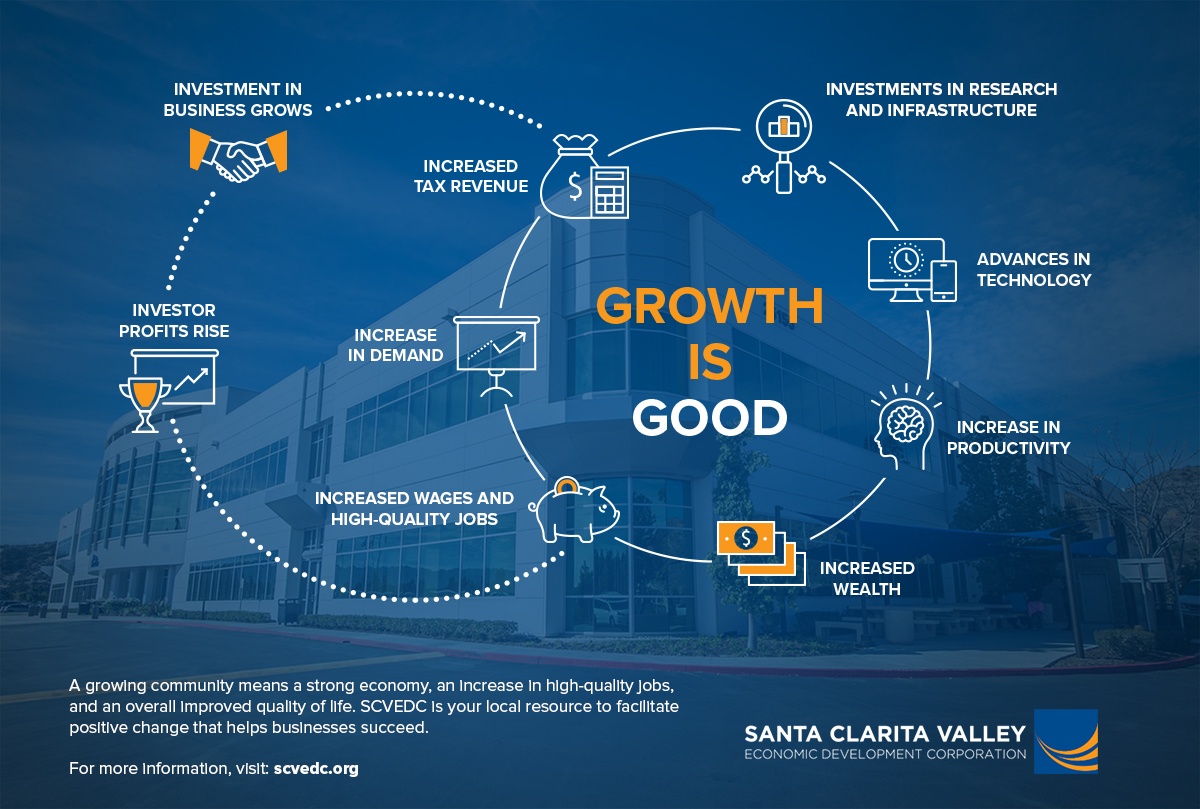 In the United States, greenhouse gas emissions in 2014 were actually 9% lower than they were in 2005. This despite the fact that the country grew by nearly 20 million people during that same time. The growth of our country – our community, really - did not translate to an increase in greenhouse gases. Instead, because of technology advancements and increased environmental awareness, we reduced our pollution output.
The truth is: correlation is NOT causation.
If a community does not invest in better infrastructure, for example, traffic will get worse.
If it does not invest in clean energy, pollution increases.
And if a community does not celebrate and preserve its culture, that way of life will eventually be lost.
Happily, there IS empirical evidence proving that growth, combined with proper planning, correlates with:
Improvements in a community
Stimulating investment
Advances in technology
Increased wages
The United States as a whole is, again, a great example of this. The population of the United States has more than doubled since 1950, and Americans today are both healthier and wealthier than they were when Harry Truman was president. In fact, our economy is about 7 times larger than it was in the 1950s!
Population growth also spurs advancement in technology and standard of living. Consider the idea of mass transit – the subways, buses, and light rail lines of New York, Chicago, and Portland – none of which would be economically viable without a large population from which to draw. More energy-efficient than cars, mass transit is an advancement spurred by the necessities of growing communities.
On an economic level, a growing community means higher demand for jobs, housing, and schools, which means more opportunity for businesses to hire, promote, and expand. Increased revenue means an equivalent increase in taxable income, allowing for better, high-quality jobs and improvements to infrastructure.
At the same time, a deepening pool of talent inspires employees to work harder and smarter, to not just maintain the status quo but to improve it, to progress, feeding innovation.
The myth that growth has a negative effect on a community isn't new. It may seem true, but when a community prepares for growth, when leadership takes steps to ensure population increase is met with innovation and investment, then growth is truly the engine that drives a community to prosperity.
MYTH: BUSTED.
A growing community means a strong economy, an increase in high-quality jobs, and an overall improved quality of life. SCVEDC is your local resource to facilitate positive change that helps businesses succeed.
READ ON for even more reason for optimism!
The Santa Clarita Valley Economic Development Corporation (SCVEDC) is a unique private / public partnership representing the united effort of regional industry and government leaders. The SCVEDC utilizes an integrated approach to attracting, retaining and expanding a diversity of businesses in the Santa Clarita Valley, especially those in key industry clusters, by offering competitive business services and other resources.