New Job Skills Training Courses Offered In SCV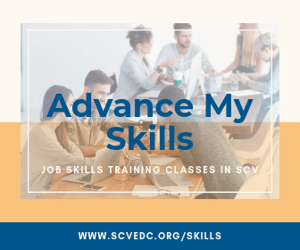 Santa Clarita, CA – The Santa Clarita Valley Economic Development Corporation is partnering with College of the Canyons and AMS Fulfillment to offer no-cost and low-cost job skills training courses in the Valencia Commerce Center. These courses are funded by a grant from Wells Fargo.
Initial course offerings reflect training in high demand by businesses in the Santa Clarita Valley, including Distribution & Warehouse Safety, Forklift Operation and Certification, Computing & Internet Fundamentals, Digital Communication in the Workplace, and State of CA legally mandated Sexual Harassment Prevention Training for both non-supervisory and supervisory employees.
Additional courses will be added later in 2019.
All courses will be taught at the Learning Center in the AMS Fulfillment facility located at 28624 Witherspoon Pkwy, Valencia, CA 91355 to provide easy access to the thousands of workers who are employed in companies in and around Valencia Commerce Center. Anyone 18 years or older may register and attend.
The first classes are scheduled to begin in June. For more information visit: www.scvedc.org/skills or contact the Santa Clarita Economic Development Corporation at (661) 288-4400.
The Santa Clarita Valley Economic Development Corporation (SCVEDC) is a unique private / public partnership representing the united effort of regional industry and government leaders. The SCVEDC utilizes an integrated approach to attracting, retaining and expanding a diversity of businesses in the Santa Clarita Valley, especially those in key industry clusters, by offering competitive business services and other resources.