Podcast Update: Landscape Development, Inc and Simplify Optics
SCV Means Business is back with new episodes featuring two companies on different ends of the spectrum here in Santa Clarita. Our CEO Holly Schroeder first chats with the CEO of Landscape Development, Inc about bouncing back after the recession and lessons they've learned after over 25 years in business. Next, Holly speaks with the owners of Simplify Optics, about why they chose SCV as a home base when they started their lab just over four years ago.
Landscape Development, Inc and Lessons of the Recession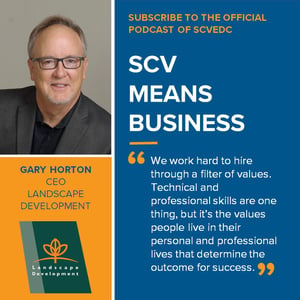 LDI is one of the most recognizable names in California when it comes to landscape and construction, but, as CEO Gary Horton shared, this wasn't always the case. During the recession from 2007-2012, LDI faced some tough times. Since then, they've grown back to 10 offices and over 1,100 employees after learning some valuable lessons from those years.
Perhaps the biggest change they've implemented is diversifying their offerings to include a wider range of services. A major component of their business is recurring income from landscape maintenance, while they specialize in construction and housing operations, particularly multi-story apartment buildings in major cities across California.
They've also expanded into earth services (think: save the slope after the rain earlier this year) and architecture/landscape design which helps get them involved from the conception of a project. Horton says that being so involved from the get-go not only allows them to build stronger, lasting customer relationships, but also make the process easier and simpler for them as well.
The other component they heavily rely on is culture management among their employees. LDI is in customer service first and foremost, and Horton believes that leading from the heart and hiring new employees through a filter of values allows them to meet cultural criteria that ultimately trickles down to positive customer experience.
Simplify Optics and Designing the Ideal Workplace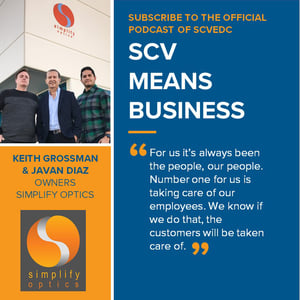 Simplify Optics is a premium manufacturing lab that specializes in high-end lens crafting and specialized prescription lenses. Owners Keith Grossman and Javan Diaz decided to make SCV home for their lab four years ago because of the simple fact that it's a great place for business with the same beliefs they wanted to build their company on.
Grossman and Diaz agree that finding someone with a background in lenses is rare, but in the Santa Clarita Valley they're able to find talented employees with backgrounds and experience in some sort of manufacturing or fast-paced environment. They're currently working with the SCVEDC and its workforce development program to create specialized training courses for employees that focus on in demand skills. They were also excited to be able to find a newer building to house their lab with tons of room that allowed them to build the work space from the ground up with intention.
Their main focus right now is taking care of their customers and relationships right here in their own backyard, as they work with a lot of high-end locations around the SCV. Having a workforce that lives primarily in the area allows them to cut down on commute times and make the process easier and simpler for their clients.
Listen to the full interviews on our podcast, SCV Means Business, now streaming anywhere you listen to your podcasts like iTunes, Google Play, Spotify, Stitcher or download our app in the iTunes or Android app store.
The Santa Clarita Valley Economic Development Corporation (SCVEDC) is a unique private / public partnership representing the united effort of regional industry and government leaders. The SCVEDC utilizes an integrated approach to attracting, retaining and expanding a diversity of businesses in the Santa Clarita Valley, especially those in key industry clusters, by offering competitive business services and other resources.