Success Story: Scorpion Opens New HQ in the Santa Clarita Valley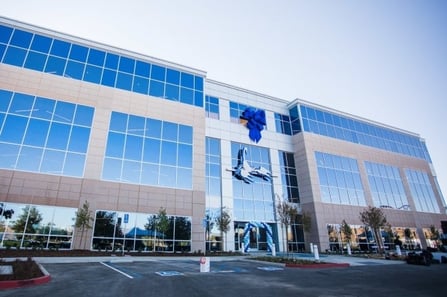 Scorpion, an internet marketing company based in Santa Clarita, cut the ribbon on their 100,000-square-foot, custom-designed, built-from-the-ground-up headquarters in Valencia, CA on Friday.
The company, which previously occupied several office spaces on Avenue Stanford, now moves to Entertainment Drive, near the Sunkist HQ.
You may have seen the cranes in the distance as you drive down I-5; the project has not been a small one. Though it began as a startup, Scorpion now has hundreds of employees. The Santa Clarita Economic Development Corporation estimates the fiscal impact of the new HQ on Santa Clarita's tax base to be about $2 million.
"Scorpion is a driver of the local economy," SCVEDC President Holly Schroeder said at the ribbon cutting ceremony. "The jobs here at Scorpion support creation of other jobs here in the SCV. Construction of this building employed hundreds of construction workers. Cumulatively, these activities drive our economy."
On the flip side, Santa Clarita Valley also had a lot to offer Scorpion in terms of incentives and resources (such as the Industry Cluster Attraction Incentive which, for qualifying companies, can translate to up to $40,000 to help with permitting costs!) that made expanding in this area a wise business decision.
CEO Rustin Kretz founded Scorpion in 2001. A true Santa Clarita startup success story, Scorpion is one of the fastest growing private companies in America (including ranking on the list of Fortune Magazine's Top 100 employers for millennials), and now sees annual revenues north of $123 million.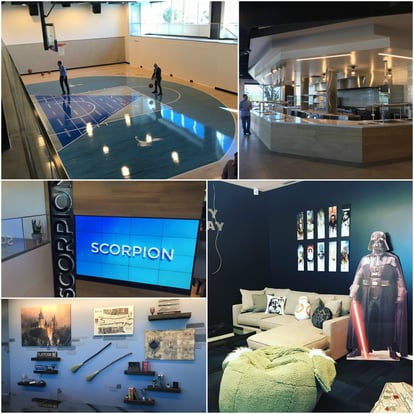 Their dedication to their employees is evident in the design of their new HQ which is loaded with details to make work life more enjoyable. Adjustable standing desks, a basketball court and gym, activities like pool tables and dart boards, an employee restaurant, and themed conference and small meeting rooms on every floor are some of the many employee perks.
"Scorpion is a demonstration that tech companies can thrive in the SCV," Schroeder said, "and that employees can enjoy a great quality of life while working for a great employer."
Top brass at the company seem to agree. Chief Financial Officer Matthew Shepherd told The Signal last year, "We chose Santa Clarita Valley as the permanent home for Scorpion because a majority of our employees already call this area home, and we see it shaping into the epicenter of a tech hub that spreads across Los Angeles County."
Shepherd's statement echoes what we've told you before about the suburbs driving the future of technology. Besides the obvious benefit of already being home to many Scorpion employees (providing a hard-to-find work/life balance), SCV is also a less expensive place to do business compared to nearby areas.
Related: What millennials want at work and why you should care
Schroeder says Scorpion's success should inspire other entrepreneurs to take a closer look at the Santa Clarita Valley. "The significance of Scorpion's decision to expand here in the Santa Clarita Valley and build this beautiful building as its headquarters cannot be overstated," Schroeder said.
Contact us today if your business is on the verge of a similar success story. We not only desire to take part in it but be a major driving factor behind it! Your future is closer than you think…
The Santa Clarita Valley Economic Development Corporation (SCVEDC) is a unique private / public partnership representing the united effort of regional industry and government leaders. The SCVEDC utilizes an integrated approach to attracting, retaining and expanding a diversity of businesses in the Santa Clarita Valley, especially those in key industry clusters, by offering competitive business services and other resources.