SCV-Based Mechanix Wear is Expanding to New Facility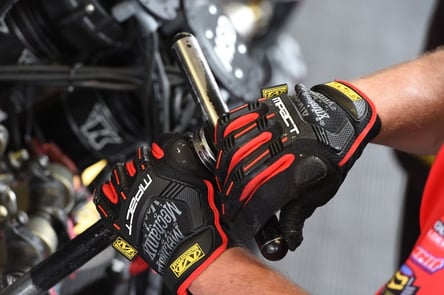 CBRE announced that premier protective glove manufacturer Mechanix Wear, Inc. leased 93,735 square feet of space at IAC Commerce Center in Valencia. CBRE's Craig Peters and Doug Sonderegger represented the landlord IAC Properties in this transaction.
"We are thrilled that Mechanix Wear made the decision to expand in the Santa Clarita Valley. They are a flagship company that is continuously innovating for their customers. This expansion will support their continued growth and cement their status as one of SCV's premier companies," said Holly Schroeder, President and CEO of the Santa Clarita Valley Economic Development Corporation.
The IAC Commerce Center is a master-planned, 116-acre business park, located adjacent to the Valencia Commerce Center and approximately 1 mile northwest of the Interstate 5 and Highway 126 interchange.
"With the addition of Mechanix Wear, IAC is proving the demand for attractive and highly functional buildings is strong," said Peters. "We continue to see tremendous interest in this project from a wide range of companies."
Mechanix Wear's strong reputation among its customers has allowed the company to expand its operations into this substantial space, which it will use as a distribution center for its comprehensive range of performance work gloves. All Mechanix Wear products reflect the company's commitment to anatomical design, industry leading material technology, and rigorous testing standards. It is these cornerstones that have made the company a segment leader.
"The functionality and high-tech image of the chosen building works perfectly for our growing business," said Michael Hale, Chief Executive Officer of Mechanix Wear. "It will allow us to expand our distribution network without any disruption to our existing operations. We are also particularly pleased with the building architecture, which perfectly matches our forward-thinking and progressive approach to business solutions.
CBRE's Peters and Sonderegger also represented Mechanix Wear in the transaction.
IAC Commerce Center is located adjacent to the planned community of Newhall Ranch, which will encompass more than 20,000 homes and 60,000 residents. It is surrounded by scores of restaurants and shops. Phases 2 and 3 of the project will add an additional six buildings totaling over 900,000 SF. The project can provide units ranging from 50,000 SF up to 500,000 SF.
The project is surrounded by an established commercial market with more than 25 million square feet of industrial and office properties. The population within a 30-minute commute of IAC Commerce Center is nearly 5 million, including residents in the Santa Clarita Valley, San Fernando Valley and Antelope Valley.
READ ON: New & Expanding Companies in the Santa Clarita Valley
The Santa Clarita Valley Economic Development Corporation (SCVEDC) is a unique private / public partnership representing the united effort of regional industry and government leaders. The SCVEDC utilizes an integrated approach to attracting, retaining and expanding a diversity of businesses in the Santa Clarita Valley, especially those in key industry clusters, by offering competitive business services and other resources.