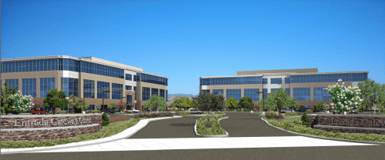 Last week, the Santa Clarita Valley Economic Development Corporation (SCVEDC) awarded its Industry Cluster Attraction Incentive to Scorpion, a leading Information Technology company in the Santa Clarita Valley. Scorpion is constructing a new Headquarters in the Santa Clarita Valley, with construction set to be completed later this year. The incentive reimburses Scorpion for permit fees incurred during the permitting process of up to $40,000, and is just one of the many SCV business services and resources provided by the SCVEDC.
Plans for the new headquarters revolve around the facilitation of employee wellness and innovation via large, open creative spaces, a fitness center, natural lighting, indoor game centers, and a fully equipped dining facility. The company is also considering incorporating solar panels across their parking lot, electric car charging stations, and similar eco-friendly assets. Scorpion's new headquarters will adhere to strict clean energy standards for a low environmental impact to benefit the local community, including plans to achieve LEED building certification.
Matthew Shepherd, CFO of Scorpion, thanked the SCVEDC for its assistance, and lauded the Santa Clarita Valley as a good location for business. "Everyone at Scorpion is excited about the new building and the ability to continue to grow our business in the Santa Clarita Valley!" he wrote in a letter to the SCVEDC. "While other communities were considered, the ability to work, live and provide employees with affordable housing options was the main driver in deciding to remain in Santa Clarita." He went on to say, "The SCVEDC's assistance in providing direction and expediting the development process has enabled us to hit our very aggressive construction schedule. With this support, one year from now we will be celebrating a finished building!"
The Industry Cluster Attraction Incentive is designed to assist companies bringing high quality jobs to the Santa Clarita Valley. The incentive is available to companies with a minimum of 20 employees in select industries, including Advanced Manufacturing, Medical Devices and Biotech, Information Technology, Digital Media and Entertainment, and Aerospace and Defense. Companies may receive up to $40,000 to cover the costs associated with permitting and other fees.
The Santa Clarita Valley Economic Development Corporation (SCVEDC) is a unique private / public partnership representing the united effort of regional industry and government leaders. The SCVEDC utilizes an integrated approach to attracting, retaining and expanding a diversity of businesses in the Santa Clarita Valley, especially those in key industry clusters, by offering competitive business services and other resources.