The Impact of Health on the Workplace
It's not exactly a shocking revelation that leading a healthy lifestyle can improve your physical and mental well being, but did you know that it can also have a profound effect on your performance at work, as well? Recently, we've begun to see companies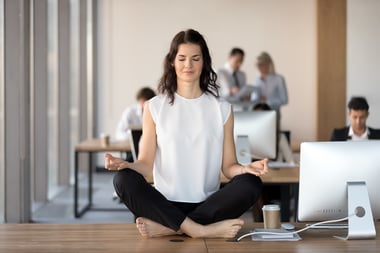 incentivize employees with wellness programs, access to onsite workout facilities or discounted health club memberships, and mindfulness/meditation training to not only improve productivity, but also increase employee satisfaction.
In fact, the Mayo Clinic found that any amount of exercise, no matter how vigorous or relaxing, can help act as a form of stress relief. This means that encouraging employees to get involved in physical activity from yoga to walking to weightlifting can help reduce stress in the workplace and improve mood. A study in 2017 showed that weekly training in mindfulness, fitness, and yoga improved all areas of employee productivity, stress, mental health, and sleep.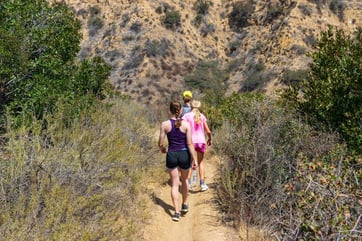 While we've discussed the importance of work-life balance previously, one study showed that people who perceive having a successful work-life balance actually work 21% harder than those who don't. This staggering statistic argues for employers to get more involved in ensuring the workforce feels supported in order to not just boost productivity, but also increase the overall quality of work being done.
SCV: Home to a Healthy Lifestyle
While providing access to fitness facilities is a great start, it's not always feasible for the size or space of your business. Right here in Santa Clarita, we're home to 18 hiking trails, 5 bike trails, and numerous basketball and tennis courts. This means that employees who live in the area are able to take advantage of outdoor activities in the nearly year-round sunshine.
Additionally, the local Henry Mayo Newhall Hospital offers a fitness center with workout, mindfulness, and health education classes. The Santa Clarita Sports Complex and Aquatics Center both offer fitness facilities, a 40,000 square foot skate park, rec rooms, and swim lessons to meet whatever type of workout you want to try, especially since finding exercise you enjoy makes you more likely to continue on a regular program.
Are you ready to grow your business and enjoy a higher quality of life? Contact the SCVEDC to learn more about how the Santa Clarita Valley can help your company succeed.
The Santa Clarita Valley Economic Development Corporation (SCVEDC) is a unique private / public partnership representing the united effort of regional industry and government leaders. The SCVEDC utilizes an integrated approach to attracting, retaining and expanding a diversity of businesses in the Santa Clarita Valley, especially those in key industry clusters, by offering competitive business services and other resources.