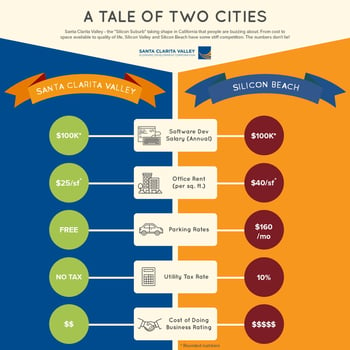 Valencia Recognized as One of 5 LA and OC Tech Areas to Watch in 2018
In the past year we have seen tremendous momentum as more and more tech companies are either relocating to the Santa Clarita Valley (SCV), or are founding their startups here. Whether you're an employer or employee, there are real, tangible financial advantages to setting your startup in the SCV. Others are taking notice. Earlier this week Built in Los Angeles called Valencia in the Santa Clarita Valley one of 5 emerging LA and OC tech areas to watch in 2018.
From brand new tech startups to giants like Google, there is a lot happening in the tech industry. Growth is exponential -- especially here in California. But office space is in short supply and startups are getting priced out of Silicon Valley (or Silicon Beach) so new tech areas are developing across the state. According to the article, "It's easy to forget that Valencia is just on the other side of the Newhall Pass that separates the San Fernando Valley and the Santa Clarita Valley." Our region is, "ripe for the picking."
The Santa Clarita Valley is already host to several tech companies including Kadenze, Arvato, Nexus, and Scorpion. The SCV also has more space for companies to grow, at less cost; office rent in Santa Clarita is on average about half what you might pay in Silicon Beach. The reverse commute from LA or the San Fernando Valley also makes Santa Clarita a desirable location for a new tech company by shortening commute times without hindering access to critical areas like the port of Long Beach or LAX.
There is also more land for development which allows companies to build their own facilities at a lower cost than what it would be anywhere else in the LA area. Scorpion, one of the fastest growing website design and Internet marketing firms in North America, cut the ribbon on their brand-new headquarters in October of last year.
"We believe focusing on the well-being and satisfaction of our employees directly translates to the well-being and happiness of our customers, and that's behind the design for the new building," states Scorpion CEO and founder Rustin Kretz. "We choose Santa Clarita Valley as our permanent home because our employees live and thrive here, and we see it developing into the epicenter of a tech hub that spreads across Los Angeles County."
Tech companies are an integral part of the Santa Clarita Valley's business environment; in fact, information technology is on of the SCVEDC's five major industry clusters. From Google Startup Grind to the city of Santa Clarita's Incubator, there are numerous resources available to help companies get off the ground.
The SCVEDC helps tech companies find the resources they need as well as incentive programs they might not have otherwise known about. It is this, as well as many other factors, that will launch this "Silicon Suburb" to the top!
Related: Five Reasons to Set Up Your Startup in the Suburbs
Make the right business decision that affects your bottom line and locate your tech company with other like-minded businesses that are leading their respective markets – contact SCVEDC to call SCV home, your future is closer than you think!
The Santa Clarita Valley Economic Development Corporation (SCVEDC) is a unique private / public partnership representing the united effort of regional industry and government leaders. The SCVEDC utilizes an integrated approach to attracting, retaining and expanding a diversity of businesses in the Santa Clarita Valley, especially those in key industry clusters, by offering competitive business services and other resources.