Demand for Industrial Space Hottest in Years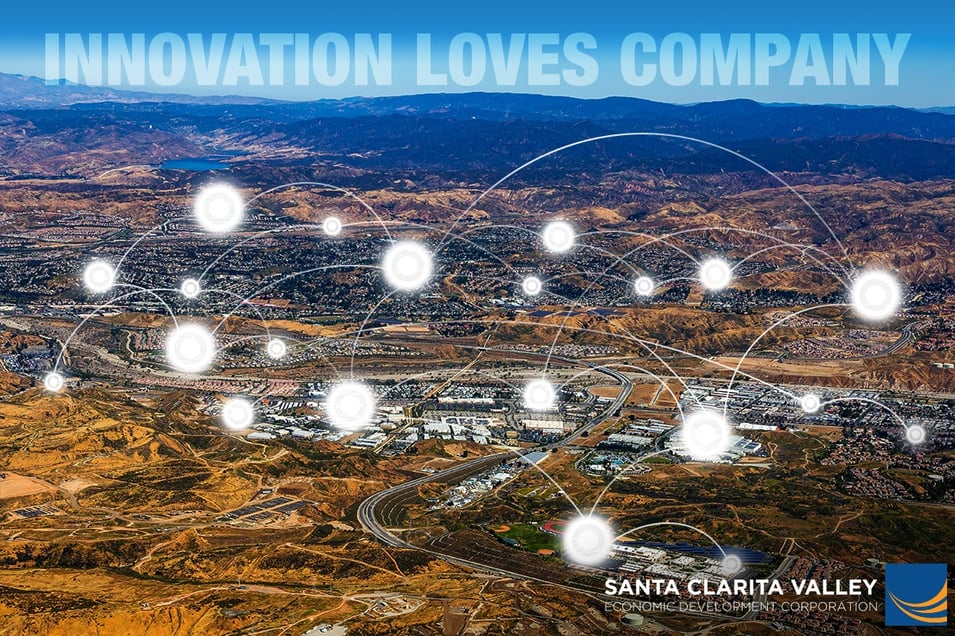 The Santa Clarita Valley industrial market is heating up, with a growing number of companies acquiring new warehousing, manufacturing, and logistics space. At the same time, builders are beginning to complete some large-scale projects, creating an environment that is dynamic and rapidly changing.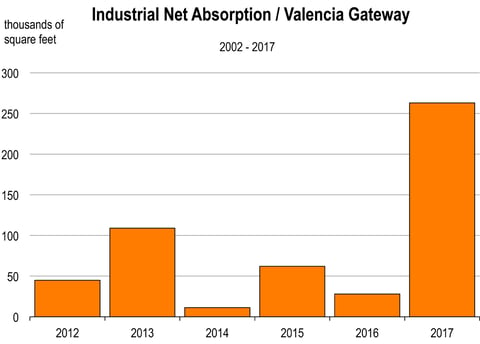 Last year, the business community absorbed almost 350,000 square feet of the region's spare industrial capacity, one of the largest figures of the past decade. In the Valencia Gateway alone, more than 250,000 square feet were absorbed.
Prominently, much of this activity was from companies already located in the Santa Clarita area. Two examples are Accurate Freight Systems and Pharmavite, each of which moved into facilities of more than 50,000 square feet. Firms like these typically cite several reasons for expanding within the local community, including its growing pool of available workers and its competitive lease rates.
Across California, job markets are getting tight, and companies are struggling to attract qualified employees. In most of the state, almost everyone who wants a job already has a job, forcing companies to recruit workers from their competitors or hire people from other cities.
But the population of the Santa Clarita Valley is growing rapidly, creating a steady influx of talent and making it easier for companies to hire.
Compared to the rest of L.A. County, the SCV also has some of the most affordable industrial lease rates, with average rates that are more than 30 percent cheaper than Central L.A. and 15 percent cheaper than the San Fernando and San Gabriel Valleys.
In response to growing demand, builders are ramping up their construction activity, delivering a substantial amount of new capacity to the market. In 2017, several industrial structures were completed, totaling almost 400,000 square feet of space. More is underway, and with an average of 700,000 square feet under construction throughout 2017, additional completions are expected in 2018.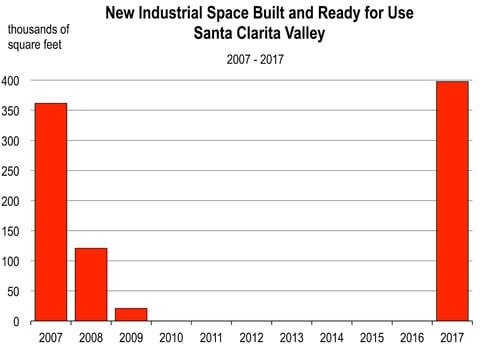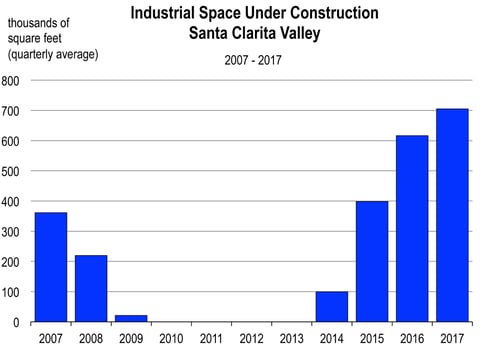 As companies begin to fill this new space, jobs will be created in several industry sectors, including logistics and transportation. Over the past year, jobs in the logistics industry have expanded at an accelerated rate, as consumers increasingly shop online and have goods delivered to their homes. Logistics services tend to be concentrated in the Central Valley and Inland Empire, but some of this activity is moving to the SCV to take advantage of its proximity to the ports, and to be close to the L.A. County consumer base. During 2018, the SCV logistics industry will expand faster than the overall labor market, and is expected to offer above average wages and salaries.
For more valuable insight into the local, state, national, and even global - YES, global! - economies and how they'll be impacted by the growth and development on the horizon, register for the 2018 Economic Outlook Conference. Scheduled for Thursday, March 8, 2018, from 2 - 5 p.m. in the beautiful Valencia View Room at the Tournament Players Club in Valencia. Regular registration is $125 and walk-in registration the day of the event is $150. Space is limited!
About the Author: One of the featured 2018 Economic Outlook Conference speakers, Dr. Mark Schneipp from the provides economic analysis and forecasting for a wide range of clients including businesses, non-profits, cities, regional organizations, colleges and universities. The California Economic Forecast's special areas of expertise include regional economic analysis, economic evaluation of regions using local indicators, and longer-term forecasting of California counties.Dr. Schneipp will provide an in-depth forecast for the Santa Clarita Valley at the upcoming Outlook event.
About the SCVEDC: The Santa Clarita Valley Economic Development Corporation (SCVEDC) is a unique private / public partnership representing the united effort of regional industry and government leaders. The SCVEDC utilizes an integrated approach to attracting, retaining and expanding a diversity of businesses in the Santa Clarita Valley, especially those in key industry clusters, by offering competitive business services and other resources.