Los Angeles Makes the Short List for Amazon's HQ2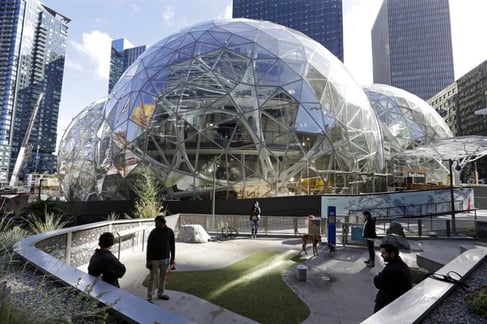 Today Amazon announced its list of top 20 finalists for their new headquarters, and Los Angeles was named among them. As the only West Coast location on the list, LA County came in as a strong contender for the new HQ which is expected to be housed in up to 8 million square feet of commercial buildings that are sustainable, fiber-connected, close enough to walk between and situated on 100 developable acres.
In September Amazon, the e-commerce giant, publicly announced that it was inviting proposals from the country's major metropolitan areas on potential sites where the corporation could create a second headquarter campus, ideally similar to the existing HQ in Seattle. This new campus will employ over 50,000 workers in high-paying jobs and will help Amazon handle the rapid growth it is expecting over the next decade.
The Santa Clarita Valley Economic Development Corporation (SCVEDC) joined forces with the Los Angeles Economic Development Corporation (LAEDC) to present a strong proposal to Amazon which included several other potential sites in Los Angeles County.
Related: Is SCV LA County's Best Bet for Amazon's HQ2?
Holly Schroeder, President and CEO of the Santa Clarita Valley Economic Development Corporation is aware that California has the perception of being a place where it is hard to do business, and part of the work of the SCVEDC is to tell the rest of the story.
"Many analysts discounted California's shot at this proposal. We understand the tremendous advantages of the LA region, and are glad to see them recognized by Amazon," said Schroeder. "The site at Newhall Ranch in the Santa Clarita Valley offers the growth opportunities that Amazon needs. Given Amazon's history of innovation, we believe that Net Zero Newhall, a zero greenhouse gas emission development, is a great match for this forward thinking company."
Whatever happens, the SCVEDC is happy to have the opportunity to draw national attention to the region. Many businesses have chosen to locate their companies in the SCV because it is a great place to live, work and play. The Santa Clarita Valley is a good location for business, but beyond that, it offers its residents an unmatched quality of life.
The Santa Clarita Valley Economic Development Corporation (SCVEDC) is a unique private / public partnership representing the united effort of regional industry and government leaders. The SCVEDC utilizes an integrated approach to attracting, retaining and expanding a diversity of businesses in the Santa Clarita Valley, especially those in key industry clusters, by offering competitive business services and other resources.